Mens Laser Hair Removal
---
Tired of the constant irritation that is caused by waxing and shaving?
Try our laser hair removal treatments in Milton Keynes, which will stop your irritation permanently!
Long-Lasting Results
Reduces Hair Growth
Suitable For All Skin Types
Bespoke Treatments
What is Men's Laser Hair Removal?
Both males and females can enjoy the pleasures of removing unwanted hair. At Infusion Wellbeing, we offer treatments for men and women.
Our laser hair removal treatments will offer a permanent hair reduction solution to both the face and body. Forget about plucking, waxing or shaving, laser hair removal will save you the time and hassle, without the worry of ingrown hairs and irritation.
This type of treatment can be advantageous as it will improve the comfort of your skin and possibly your looks too. It is cost-effective and can be great if you are after a more streamlined look.
Hair free after 8 sessions!
- Mark
Pricing
Mens Laser Hair Removal Cost:
Face
Upper Lip - £30
Cheeks - £30
Chin - £30
Sideburns - £35
Beard - £60
Full face - £70
Upper Body
Neck - £40
Shoulders - £80
Half arm- £50
Full arm - £80
Lower back - £80
Stomach - £70
Underarms - £50
Chest - £110
Full back - £130
Lower Body
Lower back - £80
Bikini - £50
Brazilian - £65
Hollywood - £90
Half leg - £90
Full leg - £120
Buttocks - £70
Feet and toes - £35
Fingers and toes - £35
Full Body
Full body & face - £350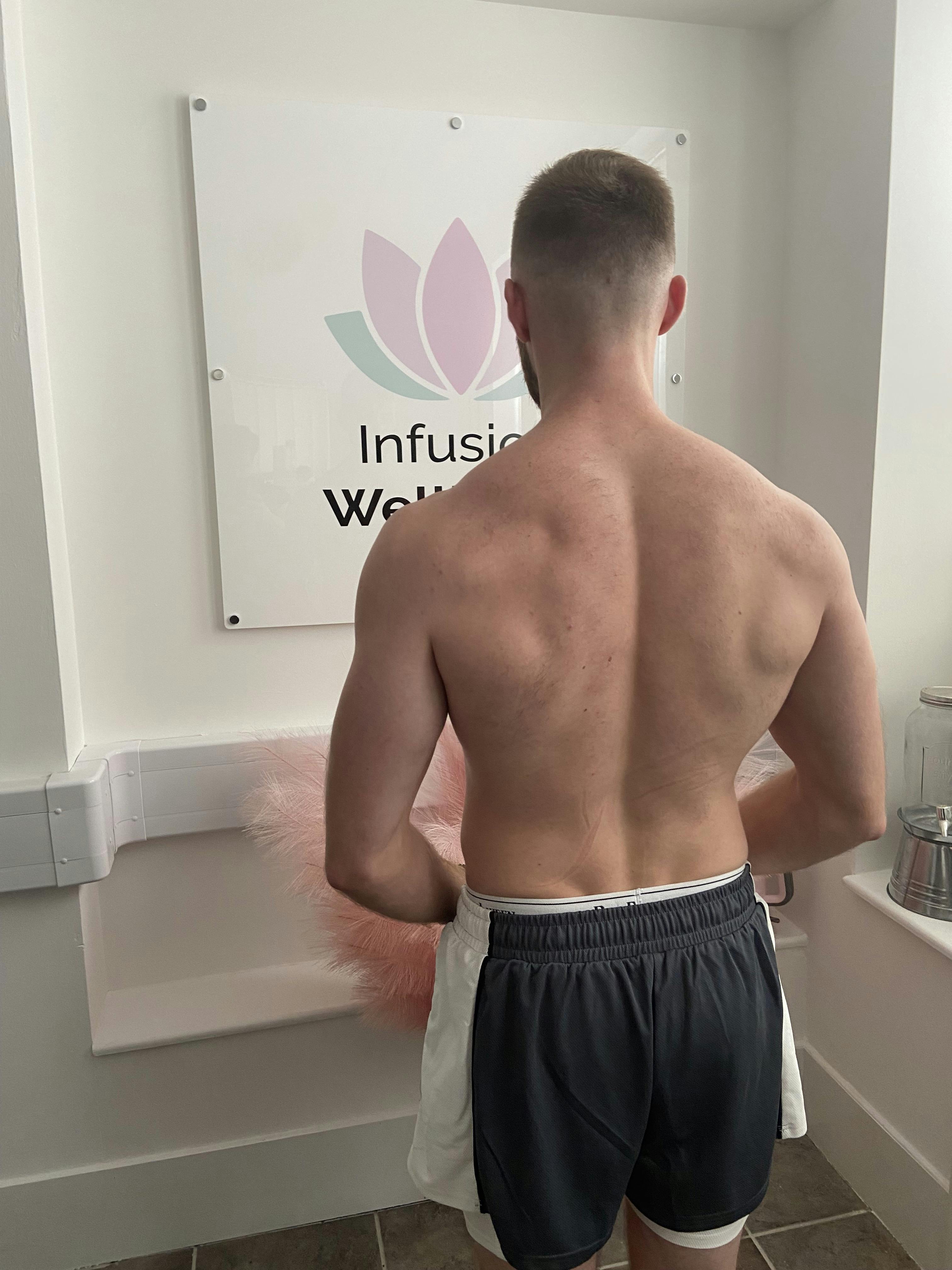 Benefits of Laser Hair Removal For Men
Permanent Solution
This is a permanent solution to removing hair. Once it is gone, it wont come back, which is why it is so recommendable.
More Hygienic
Hairs can carry bacteria and can lead to small infections of hair follicles, like folliculitis. Removing the hair follicles will prevent this from happening.
No More Ingrown Hairs
Ingrown hairs are a common irritation that men face after shaving or waxing. Laser hair treatment does not cause any ingrown hairs.
No Need For Shaving
As it is a permanent solution, you'll no longer need to worry about shaving or waxing.
How Does Laser Hair Removal Work?
The way it works is simple.
A laser beam is released into the skin in order to turn it into dead hair. This occurs because the beam from the laser will convert into hear, which damages the hair follicles. Once the hair follicle has been damaged, it won't be able to regrow within the treated area.
Our sessions at our Milton Keynes clinic will begin with a specialist creating a tailored plan based on your hair type, skin type and whether you have dark hair or light hair.
Thanks to our advanced technology, multiple hair follicles can be targeted at once, which helps when achieving optimum results.
In order to remove unwanted hair efficiently, multiple treatments will be needed, therefore this is more than just a 1 session remedy.
Feel free to contact our team at our Milton Keynes clinic for more information and advice, starting with a free consultation.
Is Laser Hair Removal Permanent?
Yes. The great thing about this treatment is that it's a permanent solution! Once we remove hair, it is gone for good!
Laser hair removal treatment is the most effective due to it being permanent. Using alternatives such as hair removal creams, shaving, waxing, plucking, etc will only make hair grow back thicket and stronger, which is why it's sometimes best to just get rid of hair growth completely.
Will it Be Painful?
Clients will react differently to the feeling of laser hair removal. different skin types experience different levels of pain, it can also come down to hair types too.
If you have a high pain threshold, you will be virtually pain free. If you don't however, then expect to have the feeling of a sharp pin prick.
This is something you can discuss with our specialists.
How Many Sessions of Laser Hair Removal Do I Need?
Your skin and hair type will help determine how many sessions you need, as well as how your body starts responding to the treatment.
Each session, there will be significant hair loss, which will prove the treatment is working. After each session, we will monitor how hair grows and how quickly it can be removed.
In areas of the body or face where there is excessive hair growth, then more treatments will be needed. This is something you will learn more about at our Milton Keynes clinic.
How Often Should I Have Sessions?
Depending on how the skin cells heal after a treatment, will determine how often your body will be able to withstand another treatment.
Typically, we recommend treatments to be spaced out every 6-12 weeks. This will allow sensitive areas of skin to heal in time for the next one, as well as making sure there is no late/slow hair growth which comes back after a session.
What To Expect After a Laser Hair Removal Session
The short answer to this is no more hair growth!
Each session should permanently remove an area of hair. To begin with, the surrounding skin may be sore and uncomfortable, which is why we recommend applying moisturiser to help soothe the skin.
When Will I See Results?
Results can be visible quite quickly, even after just a week!
Our practitioners will monitor the results which will also help determine how far into the treatment we are. But most women and men will be able to notice the results themselves.
Follow the advice provided for best results.
Preparing for Laser Hair Removal For Men
There are many factors that can affect laser hair removal treatment, so it is important you prepare as best you can. Here are some tips that we recommend to each client:
Do not wax prior to the treatment.
Exfoliate the skin before a session, if possible.
Avoid sun exposure.
Avoid blood thinners.
Do not wear makeup to the treatment.
What to Wear
Your choice of clothing is entirely down to you. One recommendation we do have is that for the most comfort, you wear loose clothing. This will be better for your skin after the treatment if it is sensitive.
Is Laser Hair Removal Safe For Men?
Yes. Thanks to the latest technology and modern equipment that we use, it is completely safe for your skin, from the light energy used in the laser, to any medicines or creams that we recommend.
It is natural to experience redness on the treated area, this is not dangerous to your skin.
If you have any concerns over the safety of this treatment, then contact our clinic in Milton Keynes for further advice.
Book Your Treatments Now
Now that you have all the information you need, you can book your laser hair removal treatments today!